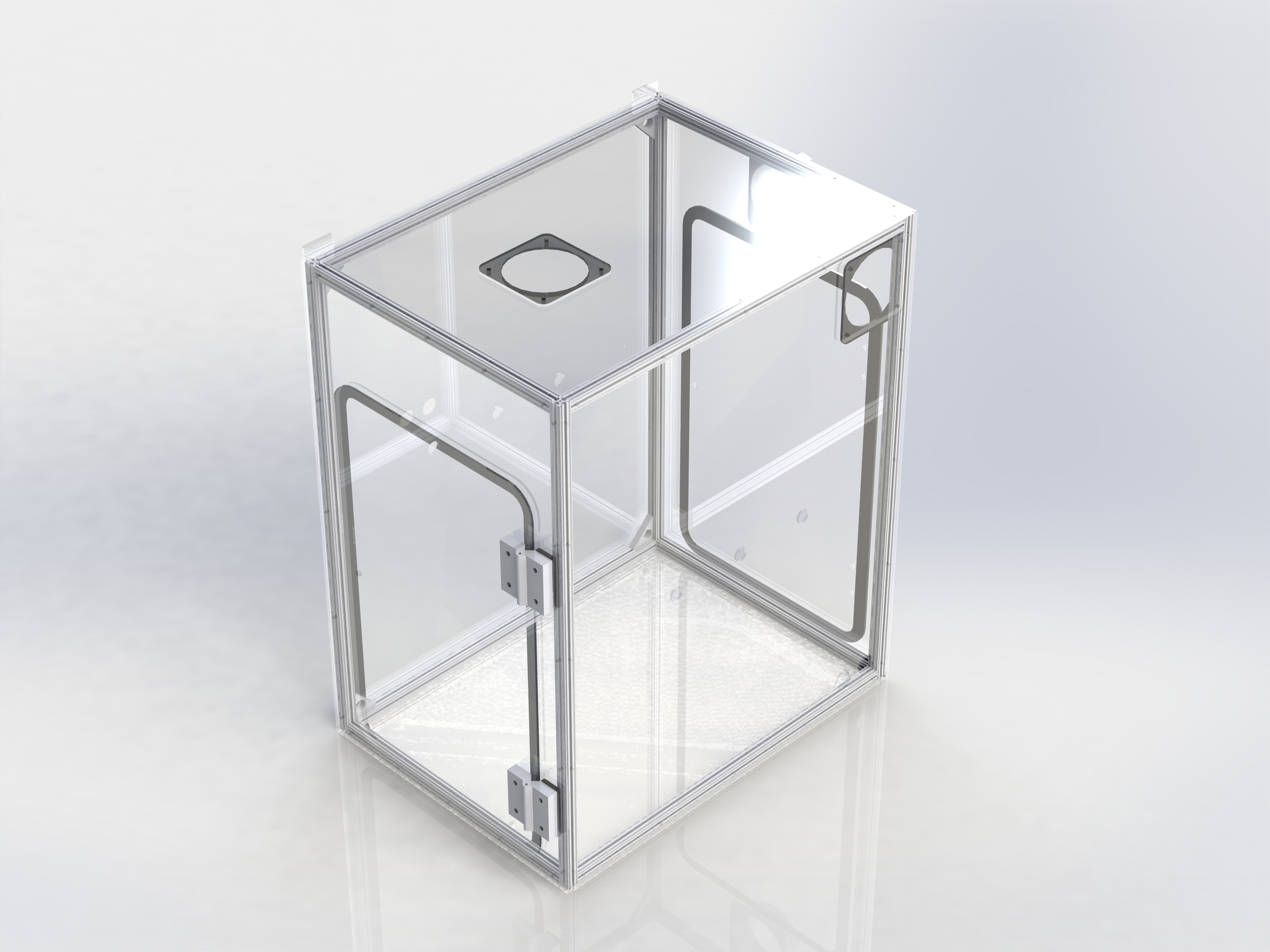 A simple enclosure for the Ultimaker 2 which has a magnetic side cover to allow easy material changes. Front and back door for easy access during normal operation. Multiple fan mounts for different installations. Allows for safe printing of ABS or other materials indoors with externally ducted ventilation.
Internal dimensions to inside of extrusions is: 357x498.5x640mm
All CAD files available on GrabCAD.
All sides are laser cut from clear, 3mm acrylic
Duct mount and magnet mounts are 3D printed in ABS or PLA.
Sides made from 6 lengths of 1m OpenBeam extrusions cut to: 4 x 357mm, 2 cut in half. Assuming 3mm kerf on saw - http://www.makershop.co.nz/openbeam
2 x Hinges - http://www.hiqcomponents.com/hinge-flat-black-64mm-9.html
2 x Door handles - http://www.hiqcomponents.com/t-handle-60mm-m6-bush-9.html
16 x 16mm diam x 2-5mm magnets required.
1 x 92mm fan - http://www.hiqcomponents.com/fan-230vac-92x25mm-hs-vapo-lead-wire-2.html
1 x fan guard - http://www.hiqcomponents.com/fan-guard-plastic-92x92mm-2.html
1 x 100mm flexible duct - from hardware store
8 x Rubber feet - http://www.hiqcomponents.com/bumper-adh-9-8x4-0mmdome-transparent-1.html
2 x Cable grommets - http://nz.element14.com/pro-power/1475718/grommet-black-m25/dp/1564549